Volunteer Opportunities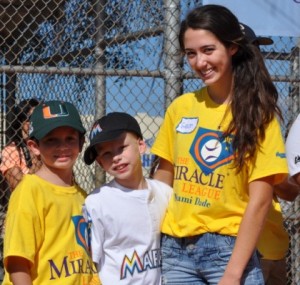 By giving only a few hours of your time, you will make a difference in a special child's life, and you will create a positive awareness in yourself.
Volunteer coaches and "buddies" work one-on-one with the players, underscoring safety and fun.
The "Buddy" is one of the most important elements of the Miracle League.  Buddies can be schoolmates, parents, students, athletes, business leaders, and any individuals or groups wishing to volunteer their time.  This is a wonderful opportunity to spend some time on the field helping a player maximize the joy of the experience.
Goals for the "Buddies" are simple:
To Protect the player at all times
To assist the player according to their needs
To allow the player as much freedom as possible to play
To have fun
Other volunteer opportunities include coaches, assistant coaches, game announcers and parent helpers.
Volunteers must be at least 12 years old and attend a training session held before their first game.
Volunteer Registration Form: Volunteer Registration Form 2018