The Story Behind the Miracle League of Central Mississippi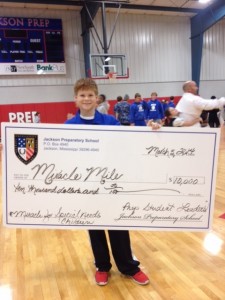 I love baseball!  One day while I was watching a game, I learned about the Miracle League when I saw commercials  for the Pittsburgh Pirates' Miracle League Field and I instantly wanted to become involved with it. When I realized we didn't have a Miracle League Field in central Mississippi, I decided we should build one in our area for people from all over the state to come and enjoy.
I shared the idea with my 7th grade leadership class at school and they decided to help by organizing a one mile run to raise money for my dream. Once people heard about the event and its purpose, the results were tremendous!  In March 2014, over $10,000 was raised as seed money for the Miracle League field.
Realizing this dream could come true, my family helped me form The Miracle League of Central Mississippi and the search for a home for the field began.  Now that the site has been chosen, we are raising money for construction.
So many people have told me they are glad to see this happening and it will make our community better.  It feels great to know that kids with disabilities will have a special place of their own in our area to experience the fun of being part of a team and cheered on by their families, friends and volunteers like me.
I hope others will support the Miracle League of Central Mississippi so that players with special needs will be able to get out in the sunshine and enjoy the great game of baseball as much as I do!
Joseph Voynik
See a Video Interview with Joseph by clicking here